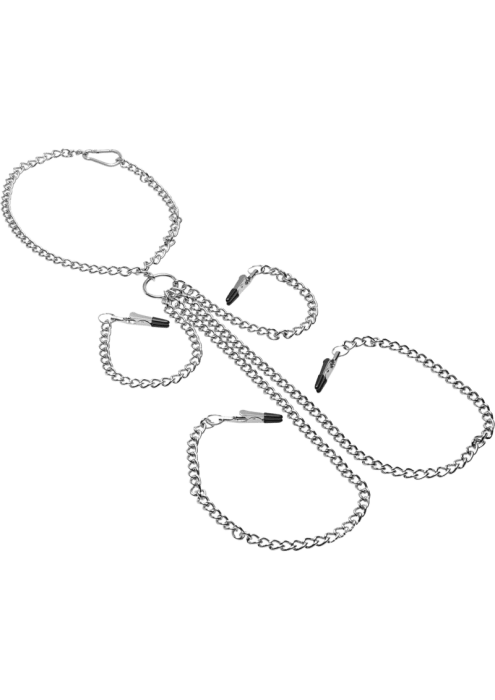 90 Day Guarantee
Shop with confidence.
Discreet Billing & Shipping
From start to... finish.
Free US Shipping Over $49
It's on us, bb.
Live Chat 24/7
We're ready to help!
XR Brands
Master Series Collar and Quad Clamp
Apply SUMMER15 to save 15% at checkout.
Connect your most sensitive erogenous zones with the stunning Collar and Quad Clamp.  Adorn the seductive chain collar as you tease your nipples and labia with the vinyl-coated clamps. With a bit of imagination you can experience multiple stimulating scenarios and find ways to use on the male anatomy as well.
Collar Length: 11"
Nipple Chain Length: 12"
Labia Chain Length: 25"
Apply SUMMER15 to save 15% at checkout.
The lowdown.
Experience nipple and labia stimulation while being attached at the neck with this stunning collar and clamp set.
Couples
This is a great option for use during sex.
Luxury
Expertly designed for your pleasure.
Wearable
Become one with this sex toy. Or just wear it, wtvr.