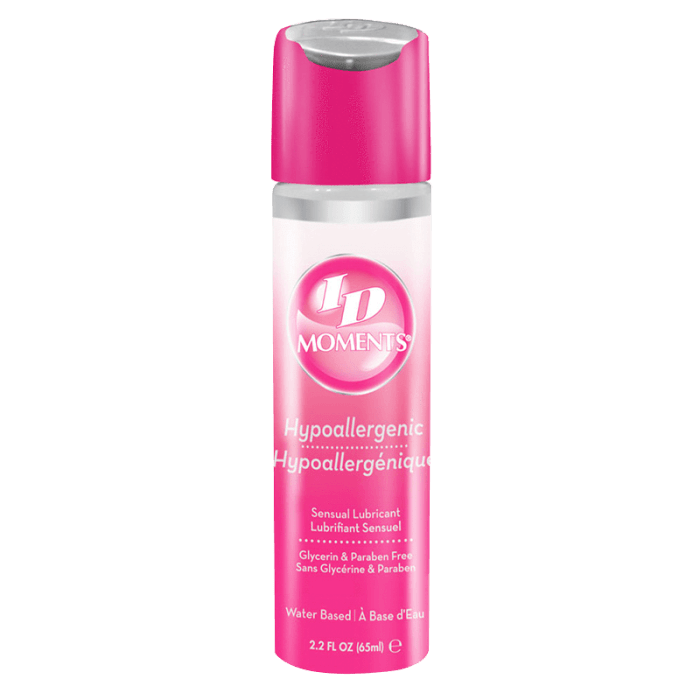 90 Day Guarantee
Shop with confidence.
Discreet Billing & Shipping
From start to... finish.
Free US Shipping Over $49
It's on us, bb.
Live Chat 24/7
We're ready to help!
ID Lubricants
ID Moments Hypoallergenic Lubricant
Apply SUMMER15 to save 15% at checkout.
ID Moments Hypoallergenic Lubricant allows you to shed any concerns about what you are applying to your most sensitive tissues - all with a pure and rich formulation that results in a luxurious lubrication feeling. People pay closer attention than ever to what they're putting in their bodies. For those with sensitive skin or those like to keep things as natural as possible, going with glycerin-free, paraben-free water-based lube might be just the ticket.
Format: 2.2 fl oz. (65 ml)
Apply SUMMER15 to save 15% at checkout.
This item ships in 3-4 weeks.
The lowdown.
FDA-approved medical grade lubricant that is ideal for anyone who may have sensitive skin and who want to minimize their body's chemical burden.
Fragrence Free
No artificial scents or perfumes added.
Hypoallergenic
This product is designed to be safe for those with allergies.
Long Lasting
Self-care Sunday approved. This thing can go all day.
Luxury
Expertly designed for your pleasure.
Paraben Free
Paraben is known to disrupt hormone function. Nope, you won't find any here.
Sex toy-safe
This lubricant is recommended for use with sex toys.