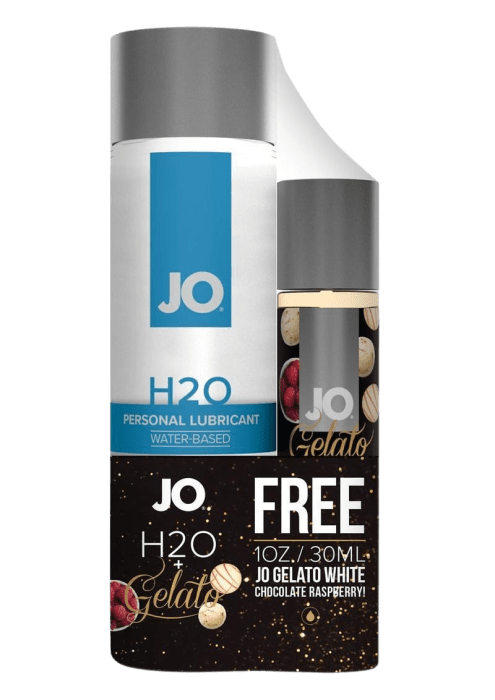 90 Day Guarantee
Shop with confidence.
Discreet Billing & Shipping
From start to... finish.
Free US Shipping Over $49
It's on us, bb.
Live Chat 24/7
We're ready to help!
System Jo
JO H2O Water-Based Lube Limited Edition Pack (4 oz + 1 oz)
Apply FALLVIBES to save up to 20% at checkout.
For a limited time only get System JO's classic H2O Water-Based Lube with a free teaser of their delicious JO Gelato White Chocolate Raspberry flavoured water-based lube.
The H20 is a water-based lubricant that feels just like a slick silicone lube and offers the similar long-lasting appeal. Latex safe, odor and fragrance free, H2O offers a silky, smooth-feeling lubricant that never gets sticky or tacky and washes off easily in water. 
JO Gelato is System JO's new flavoured water-based formula derived from pure plant sourced glycerin and provides all the same high quality performance benefits as the H2O, just with a delicious taste!
Format: 4 fl oz. (120 ml) + 1 fl oz. (60 ml)
JO Gelato Ingredients: Water (Aqua), Glycerin, Potassium Sorbate, Hydroxyethylcellulose, Flavor (Aroma), Sucralose, Sodium Chloride, Citric Acid
Apply FALLVIBES to save up to 20% at checkout.
This item ships in 3-4 weeks.
The lowdown.
Get a classic as well as an adventurous new addition with this perfect limited edition set.
Bang for your buck
The best type of purchase..when you get more than your money's worth.
Hypoallergenic
This product is designed to be safe for those with allergies.
Long Lasting
Self-care Sunday approved. This thing can go all day.
Stain Free
Because a good time shouldn't cost you a pair of good sheets.
Paraben Free
Paraben is known to disrupt hormone function. Nope, you won't find any here.
Sex toy-safe
This lubricant is recommended for use with sex toys.