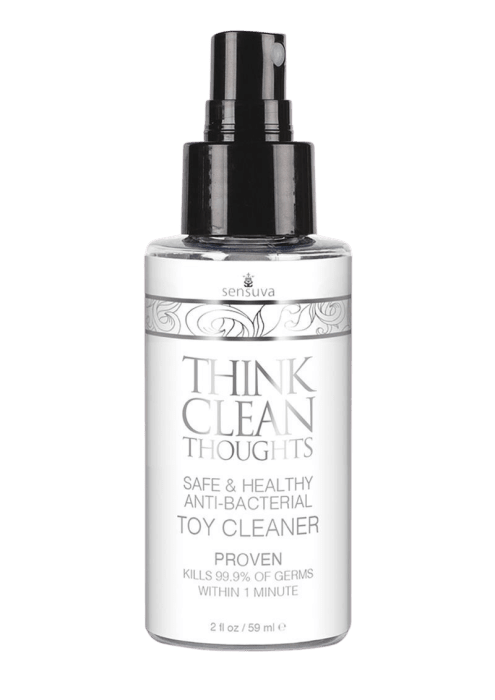 Sensuva Organics
Think Clean Thoughts Antibacterial Toy Cleaner
Apply MM25 to save up to 25% at checkout.
During playtime you'll be thinking dirty, but when it's all said and done you should be thinking clean.  Think Clean Thoughts is a simple and quick antibacterial cleaning spray containing active anti-microbial ingredients proven to kill 99.9% of all germs.  The cleaning spray is also mild enough to not cause any irritation to your nether regions or break down your toys.
Made with healthy ingredients such as: water, witch hazel extract, grape seed extract, sweet orange and other true essential oils. 
Format: 2 fl. oz (59 ml) spray bottle
Apply MM25 to save up to 25% at checkout.
The lowdown.
Keep your toys clean with this healthy ingredient, non irritant sex toy spray.
External use only
This solution should never be used or applied internally.
Hypoallergenic
This product is designed to be safe for those with allergies.
Stain Free
Because a good time shouldn't cost you a pair of good sheets.
Sanitizing
Removes bacteria from your toy
Sex toy-safe
This lubricant is recommended for use with sex toys.
Sexual Health
Your body is a temple, bb. Take care of yourself.