Culture
Rape culture is diverse and widespread at the 2018 World Cup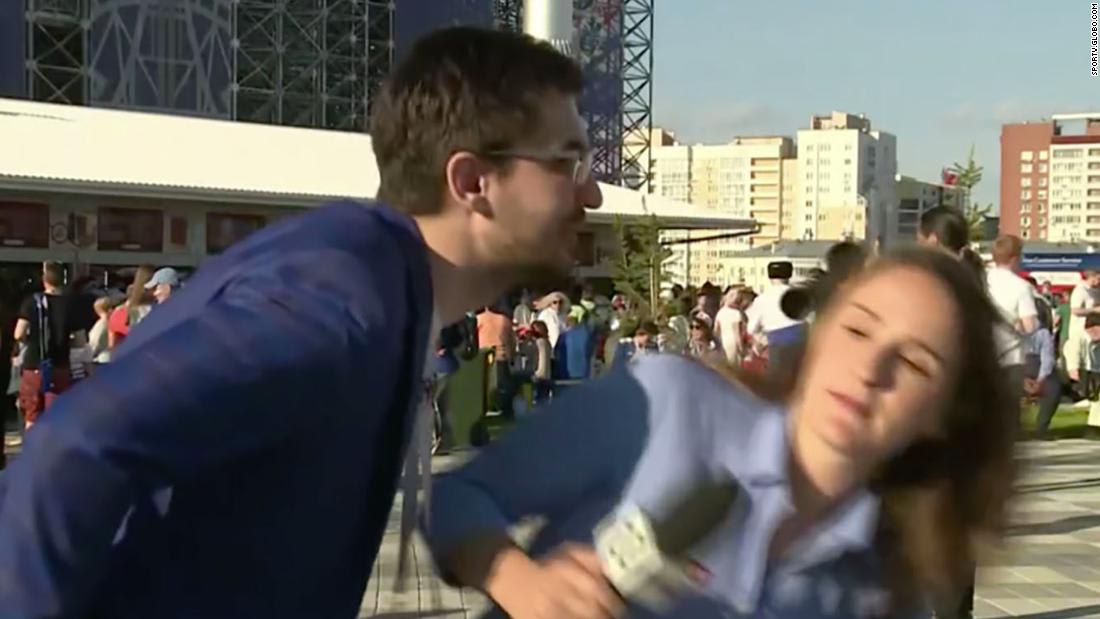 Even I have become sucked into watching the World Cup games this year. I think my mind is starving for something to focus on that's not horrifying world news. But it's hard to ignore the many ways in which the event is and always has been incredibly gendered. While many are criticizing the sexual harassment and sexism pervasive at this year's Cup, sexism in the world of sports (or anywhere) is nothing new at all. But seeing how the World Cup is currently in its throes, there's no time like the present to take a look at some of the many shocking ways in which this year's Russian mega-event has truly crossed the line.
Here are some of the unique challenges of being a female sports journalist.
Julia Guimarães
On Sunday, Julia Guimarães, a sports reporter for Brazil's TV Globo and sportv, had to scold a man who tried to kiss her during a live report in front of a stadium in Yekaterinburg before the Senegal-Japan match. She successfully ducked the idiot and proceeded to tell him off as her mic was cut. "Don't do this," she said. "I don't allow you to do this, never, OK? This is not polite. This is not right. Never do this. Never do this to a woman, OK? Respect."
Guimarães later tweeted that it's "hard to find words," and that similar incidents had also happened to her twice already in Russia, one of these at the Egypt-Uruguay game. "It's awful. I feel helpless, vulnerable. This time I gave an answer, but it's sad, people do not understand. I wanted to understand why you think you have a right to do that," she said, according to a translation.
Bruna Dealtry
Back in March, Brazilian sports reporter Bruna Dealtry was reporting live at a post-match celebration when a man forcibly attempted to kiss her. In her clip, viewed more than a million times, she brushes it off with a deadpan comment, "that wasn't cool," before continuing her report. But later on in a Facebook post, she wrote, "[It] left me without knowing how to act and without understanding how someone can feel the right to act like this."
After viewing the clip of Dealtry, a group of about 50 Brazilian journalists who were members of an International Women's Day-themed WhatsApp group agreed "something should happen." The journalists started a hashtag called #DeixaElaTrabalhar, or "Let Them Work," which is all about uniting against job harassment and demanding respect. "We are women and we are professionals," said more than a dozen reporters in a campaign video.
Julieth Gonzalez Theran
Berlin-based Colombian journalist Julieth Gonzalez Theran was groped and kissed during a live-air broadcast at the World Cup. It happened fast. As she was giving a live report from Moscow, a man appeared out of nowhere, grabbed her breast, and kissed her on the cheek. She continued with her report, fully ignoring the guy, but later expressed her outrage on Instagram. Bibiana Steinhaus, Germany's first female Bundesliga referee, described the incident as "unacceptable," but has also said this kind of behaviour is very commonplace for female sports journalists.
Claudia Neumann
Claudia Neumann is the first woman ever to narrate a men's World Cup game for German public broadcaster ZDF. Sadly, and unsurprisingly, Neumann has experienced a barrage of hatefully sexist online abuse and criticism from male fans. At the start of this year's World Cup, she responded to the internet hate calmly. "No, I do not care about it," she said, adding that the internet hate represents only a "minority that receives a lot of attention," a point of view backed by a Civey poll of German opinion. German sports coordinator Axel Balkausky of ARD, praised Neumann, expressing confidence that his agency could fill the commentator gender gap, but lamented it was difficult to find women like her who were willing to take on the job.
Burger King's "controversial" World Cup ad campaign
Yo, check out this Burger King Russia ad offering money and free burgers to Russian women impregnated by Russian World Cup players. Unsurprisingly, it was removed after people, you know, reacted to it. "Each will receive 3 million rubles [$47,000 USD]," said the ad, "and a lifelong supply of Whoppers. For these girls, it will be possible to get the best football genes and will lay down the success of the Russian national team on several generations ahead." Although it is unclear whether or not this next-level vile ad was a response to comments made by Russian politician Tamara Pletnyova, who urged Russian women not to have sex with foreign World Cup visitors, I'm calling multiple isms on this one either way. Burger King has since issued an apology, but, um—where to even start?
Getty Images joins the party too, because why not
If I haven't sufficiently rained on your World Cup parade just yet, Getty Images posted a gallery of photographs titled "World Cup 2018: The Sexiest Fans," comprised entirely of shots of (conventionally) attractive (and in most cases, scantily clad) women. They, of course, came under the gun after that for a) not feeding their straight women (or gay/bi men) viewers any eye candy whatsoever, and b) seemingly mocking the concept of women enjoying sports. Getty has since removed the gallery and issued a brief apology.
Brazilian UN Women issues a statement
The many misogynist incidents at this year's World Cup are just the latest, trendiest evidence that rape culture is thriving around the world, and knows no cultural bounds. In addition to these incidents, a bombardment of Twitter posts showcasing sexist and harassing behaviours by Brazilian soccer fans in Russia actually prompted the Brazilian office of UN Women to issue a statement. "It is unacceptable the deliberate intention of some Brazilian fans to sexually harass women during the World Cup, using embarrassment, deception, and thus violating the human rights of women…With low slang words, they reduced women to sexual objects in the demonstration of how misogyny, which even underlies the culture of rape, takes different forms and has no borders, occurring in an event that aims to promote the integration of peoples and feelings of union for sport."
Disparity: Women's World Cup
Many have pointed out that the never-ending flood of incidents reported at this year's mega event merely adds insult to injury: Did you know FIFA pays female soccer players in the US 40% less than males? Even after winning their third World Cup title in 2015, the US women's team was awarded just $2 million compared to the $35 million given to the German team for their 2014 win. It's worth noting that in the very same year, the 16 men's teams which were eliminated in the first round each received $8 million. FIFA ex-president Sepp Blatter once famously gibed that female players could "have tighter shorts" to help boost ratings.
Beyond the World Cup, beyond sports
It's never just been the World Cup. Mexican reporter Maria Fernanda Mora was surrounded and groped by fans during a live broadcast for Fox Sports.
Then there's the case of Diamond Kwok, reporting from the Hong Kong Rugby Sevens in April, forcibly kissed by two men, or Valerie-Micaela Bain, also forcibly kissed on camera while reporting live for Radio Canada from the Osheaga music festival last year.
For me, one silver-lined takeaway in all of this is social media; in many cases it has been a real outlet for targeted women reporters, and a powerful tool for rallying support and rightful indignation, as well as spreading awareness. Because what more can we really do than spread the good word and fight misogynist bullshit wherever and whenever possible?
#metoo
#onelove
Stay in the loop, bb
Our top stories delivered to your inbox weekly