Culture
10 must-listen to podcasts about sex (and other topics)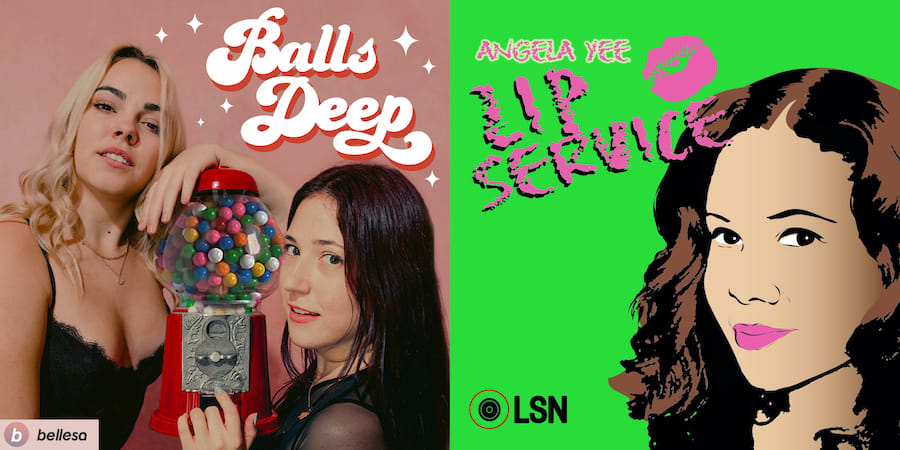 Podcasts are a great resource and no matter what you're looking for, there's a podcast for that. Podcast that are sex-positive sex can change the way you view sex and love. Whether you're looking for steamy audio erotica or something more educational, there's a sex centered podcast for that. From advice programs and talk shows, erotic drama to long-form nonfiction, we've rounded up the steamiest sex-positive podcasts on the interwebs.
1. Whoreible Decisions
There's no topic Mandii B & WeezyWTF won't tackle, and the hilarious banter that informs every episode doesn't hurt either. From personal stories about throuples to detailed retellings of evenings at sex clubs, nothing's off the table. And for anything they haven't tried themselves, they bring in those who have.
Follow on Instagram @whoreibledecisions
2. Cocktales: Dirty Discussions
Longtime friends and co-hosts Kiki Said So and Medinah Monroe want to invite you into their most intimate conversations. The duo always start with a cocktail recipe before diving into their latest romps, fantasies, and sexy tips. It's basically like your best friend giving you the steamy goss from last night's sexscapade.
Follow on Instagram @cocktalespodcast
3. Hoe And Tell Podcast
Hoe and Tell features anonymous sex stories told by strangers. Guests call in every week to share their hoe escapades, with host Ashley Cobb and Crystal Harris. These true sex stories from "regular" people cover themes like "BSDM Horror Story!," "Pegging My Boyfriend," and "Threesomes". This podcast is about creating conversations around sex, trying new things, and unleashing desires.
Follow on Instagram @hoeandtellpodcast
4. Balls Deep Podcast
Balls Deep co-hosts Rachel Wainz and Arielle Kaplan are joined weekly by comedians & sexuality experts to chat about dating and relationships- and to answer all of your most embarrassing Google searches
Follow on Instagram @ballsdeepwith
5. Black Widow
Black Widow is a scripted podcast that investigates the mindset of fucking as a millennial. It is a show which promotes positivity around sexual experiences, especially the experiences of women, whatever end of the sexual spectrum they might be on.
Follow on Instagram @blackwidowpodcast
6. Foreplay
Foreplay is a podcast featuring sex therapist Laurie Watson and couples counselor George Faller. This podcast covers every imaginable thing you'd ever need to hear about from a sexual standpoint. Watson and Faller come together to chat about kinks, sex shame, trauma, masturbation, and more. This podcast has been around for a long time so if you're searching for answers on a specific topic (even if it feels strange!), chances are that this duo has covered it.
Follow on Instagram @foreplay_radiosextherapy
7. Anglea Yee's Lip Service
Syndicated radio star Angela Yee talks sex and relationships with the hottest stars in hip-hop and R&B. Join her and her friends each week as they coax stars into revealing their most intimate from the bedroom. It's hip-hop like you've never heard before.
Follow on Instagram @aylipservice
8. Doing It with Hannah Witton
YouTuber Hannah Witton is bringing sexy back to sex education. Hannah who's openness about exploring her sexuality with a stoma brings a different type of realness to her podcast. From purity culture, to disabilities in sex work, to being autistic in the kink scene, Hannah has candid, playful chats with sex- and body-positive guests. It's all parts empowering and inclusive, and will introduce you to topics you never thought about before
Follow on Instagram @doingitpodcast
9. Sex With Dr. Jess
Sexologist Jessica O'Reilly gives advice on sexual health, bedroom inspo to boost your sex life, and common relationship issues. You know, all the important stuff. She's joined with sex educators who normalize talking about sex—seriously, no shame, with questions ranging from how to deal with jealousy to getting down in the bedroom, as well as hosting thought-provoking episodes centered around compatibility and strengthening relationships.
Follow on Instagram @sexwithdrjess
10. Future of Sex
Future of Sex podcast takes you inside the world of sextech, the emerging industry at the intersection of sexuality, technology, and what it means to be human in the middle of it all. Host Bryony Cole as she talks to sextech's leaders and experts, from sex therapists researching skin hunger, to Cannasexual™ entrepreneurs who are finding ways to bring CBD and sex together, to astrosexologists asking the tough questions like, is it possible to have sex in space? and can we reproduce in low gravity environments?
Follow on Instagram @futureofsex
Stay in the loop, bb
Our top stories delivered to your inbox weekly