Culture
Demi Lovato launches their own sex toy in partnership with sex tech powerhouse, Bellesa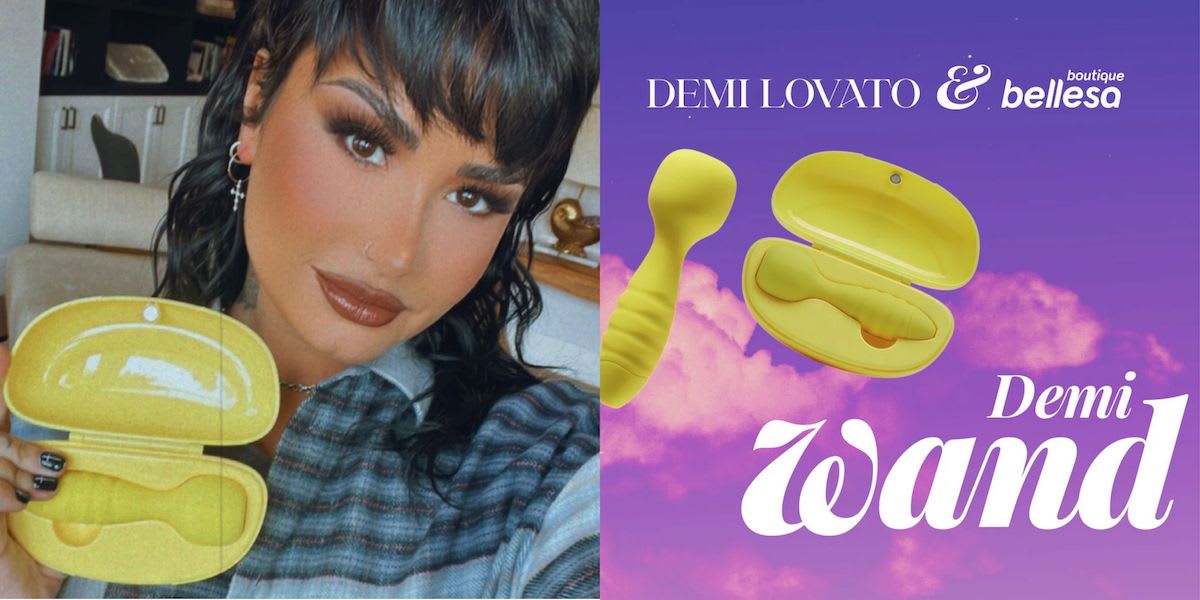 LOS ANGELES - Following an informative and candid conversation with Shan Boodram on their podcast 4D with Demi Lovato, the pop culture innovator announced the launch of their first sex toy, The Demi Wand, in collaboration with sex tech company Bellesa.
On the podcast that aired this morning, the pair discussed normalizing the use of pleasure products both with and without partners, how the stigma around sex technology needs to be lifted, and we need to be able to have open and candid conversations about sexual pleasure.
"There is nothing more empowering than taking your pleasure into your own hands. We have spent far too long pretending we are not sexual beings - it's time for us to put this stigma to rest. We are all deserving of pleasure. We are all deserving of orgasms." Demi Lovato explains. "I'm so proud and so excited to be doing this alongside the innovators at Bellesa, a company that continues to disrupt the adult entertainment and the sex tech industry, and values sexual empowerment and self love as deeply as I do," they continued.
The Demi Wand by Demi Lovato and Bellesa is a wand vibrator built using some of the most cutting edge technology in sex tech. The Demi Wand is an accessible, yet powerful wand vibrator. The true magic though, is in just how discreet the product is. The first of its kind, The Demi Wand charges in an adorable clamshell case that fits right in your purse. The product is a true labour of love between Demi and Bellesa, the #1 rated sex tech company globally.
The latest in a series of exciting career moves for Demi, this product launch marks a deepening of their partnership with Bellesa, and a further foray for Demi into building out their business empire. Early projections for The Demi Wand, based on Bellesa's historical sales data, put it in rare air as one of the to-be best selling direct-to-consumer sex toy for holiday season 2021 and all of 2022.
Described on the Bellesa Boutique website as "a revolutionary wand concealed in a discreet case that blends seamlessly with your accessories. Because pleasure is personal.", The Demi Wand retails at $79. Beautiful and compact, the product provides a variety of different sensations and intensities. It comes in a cute-as-heck clamshell charging case, making the Demi Wand easy to throw into a bag or simply leave on your night table. Its landmark design combines the best of sex toy technology with accessibility, creating one of the highest quality wand vibrators on the market in an unprecedented form factor - all at an exceptionally affordable price point.
Following the launch of their two flagship pleasure products with media giant BuzzFeed, Bellesa continues to expand into the mainstream and break down stigmas surrounding sex/pleasure.
"We set out to design a product that is empowering, inclusive and approachable, in the way that Demi is. We achieved that, together, with The Demi Wand. It is a truly brilliant pleasure product that we are proud to introduce," says Michelle Shnaidman, CEO of Bellesa. "Demi is someone who is fiercely and unapologetically themself. This is the embodiment of the Bellesa brand. They are the most influential person to publicly endorse a sexual wellness product to date - this is an incredibly exciting milestone."
Demi continues to blaze trails as the most influential person to ever launch a signature pleasure product, marking a monumental breakthrough in bridging sex tech with the mainstream.
The Demi Wand by Demi Lovato and Bellesa is available exclusively on BBoutique.co.
Images are available here: https://drive.google.com/drive/folders/1dQhFjkxifQ8ybBT_IRV2LyTMmFxcRDkP
About Bellesa Boutique
The #1 rated sex toy boutique on Google (35k+ reviews). BBoutique (Bellesa Boutique)'s carefully curated collection includes sex toys, vibrators, dildos, couples toys, and more. Bellesa's mission is to empower its community to embrace, explore and celebrate their sexuality-- unapologetically.
For more information please visit bboutique.co
Contacts
About Demi Lovato
Demi Lovato is a GRAMMY-nominated singer, actress, producer, podcast host, New York Times best selling author and activist. They also continue to be one of the biggest names on social media with an engaged combined following of over 108 million. Lovato has been honored over the years with numerous awards and accolades for their work including a MTV Video Music Award, 14 Teen Choice Awards, five People's Choice Awards, an ALMA Award, a Latin American Music Award and a GLAAD Vanguard Award for their services to LGBT activism. They have also received two GRAMMY Award nominations, four Billboard Music Awards nominations and three Brit Award nominations for their work. They also continue to be a global advocate for mental health. In 2017, Lovato was named by Global Citizen as the organization's official ambassador for mental health, with a special focus on vulnerable communities around the world. That year they were also honored by the Semel Institute for Neuroscience and Human Behavior at UCLA with the Artistic Award for Courage for their work in the space. Lovato is the host of their own podcast, 4D With Demi Lovato, where they announced that they identify as non-binary and have officially changed their pronouns to they/them. The podcast has already hosted such illustrious guests as Jane Fonda, Drew Barrymore, ALOK, Glennon Doyle, Bretman Rock and many more.
A native of Dallas, they currently reside in Los Angeles.
Stay in the loop, bb
Our top stories delivered to your inbox weekly