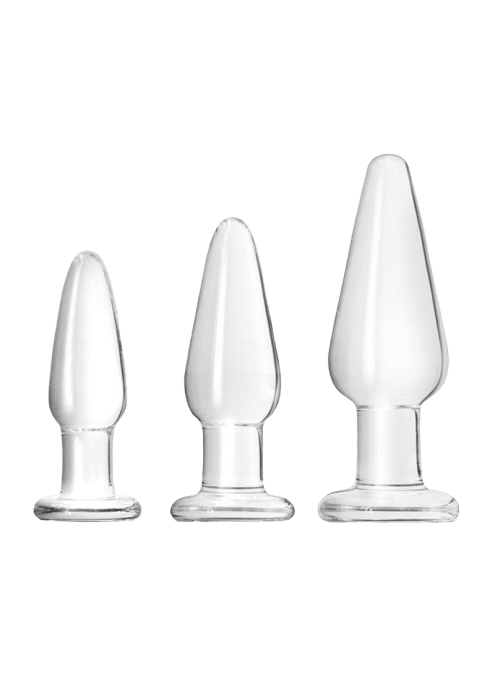 90 Day Guarantee
Shop with confidence.
Discreet Billing & Shipping
From start to... finish.
Free US Shipping Over $49
It's on us, bb.
Live Chat 24/7
We're ready to help!
NS Novelties
Crystal Tapered Premium Glass Training Kit
Apply FALLVIBES to save up to 20% at checkout.
Exquisitely crafted for a unique sensual experience, these Crystal glass plugs open the door to a world of exhilarating new pleasures. Made from hand-blown superior quality borosilicate glass, these dazzling plugs are smooth, durable, and can be heated or cooled for breathtaking temperature play.
Available in a variety of shapes and sizes. Suitable with all lubricants.
Small: 3.3" X 1.2"
Medium: 4.2" x 1.6"
Large: 4.5" x 1.7"
Apply FALLVIBES to save up to 20% at checkout.
The lowdown.
The perfect premium glass butt plug set for anyone venturing into anal play for the first time, or simply looking to add three high quality butt plugs to their collection.
Anal
This toy is designed to be safe for butt stuff.
Easy to clean
A breeze to clean after use for storage.
Glass
Rigid, firm structure. And very pretty.
Hands Free
Just put this toy in place and it'll do all the work.
Hypoallergenic
This product is designed to be safe for those with allergies.
Temperature Play
This toy is made for temperature play. Hot n' cool sensations await.