Culture
Daphne Lee: Miss Black USA, Ballerina, Mold Breaker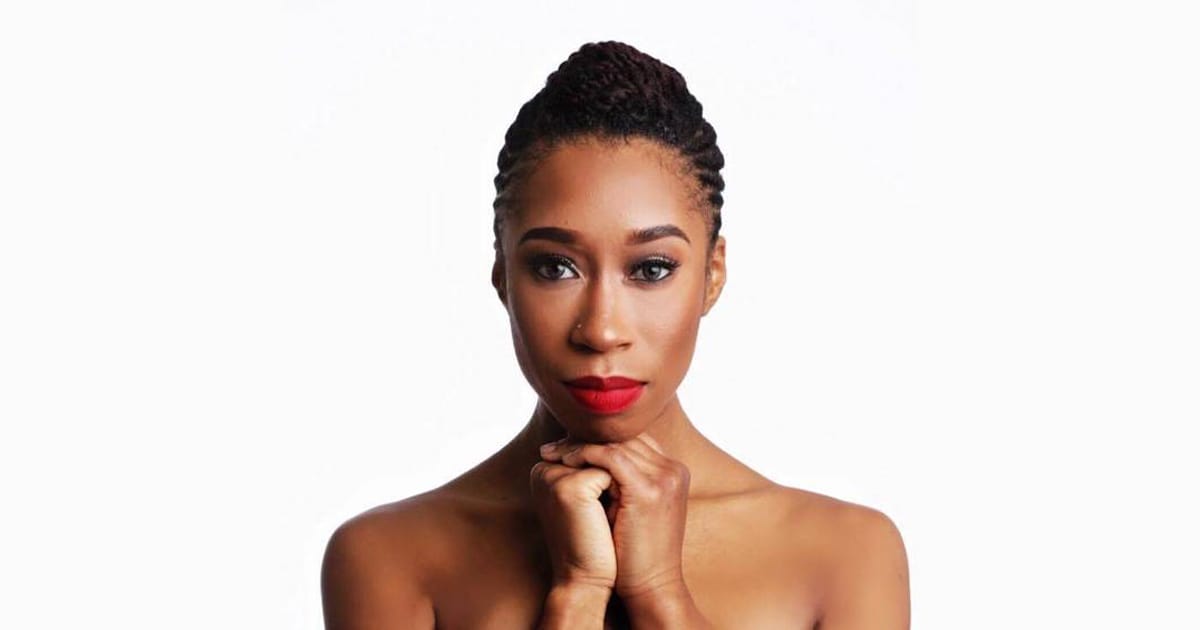 Miss Daphne Lee is a trailblazer. She recently won Miss Black USA rocking goddess faux locs as a way to switch up pageant beauty standards. And as a trained dancer and ballerina (formerly dancing for Alvin Ailey II Dance Company, and working for Beyoncé and Storyboard P), she is one of three black ballerinas with her own pointe shoe hue. Daphne aspires to be an inspiration to young women of colour. She is detangling stereotypes of beauty standards for black women. Her mission is to endorse and promote diversity and beauty standards towards women of colour, and encourage the African American community to be involved with Multiple Myeloma Awareness.
We had the opportunity to ask Miss Daphne Lee about her decision to forego a weave for Miss Black USA, and her thoughts on #BlackGirlMagic:
Q) Classical ballet seems to continuously and frustratingly celebrate pale princesses and fair swans. Talk to us about what it's like being a badass black ballerina and what kind of barriers you've had to break through.
A) My mother was a ballet dancer, so I was well aware of the many blacks in ballet from Janet Collins, Raven Wilkenson, and my moms friends at the Dance Theatre of Harlem in New York City. I know Arthur Mitchell, one of the co-founders of Dance Theatre of Harlem and was always surrounded by black artists. Yes, there are still issues of diversity but through various forms of media, ballerinas out there are changing the game. It can be frustrating to see that companies still don't reflect entirely what America looks like but I believe this gives people more action to do so. Nashville Ballet's artistic Director Paul Vasterling does showcase his ballerina Kayla Rowser who is an African Amercian woman. Choreographer Jeremy McQueen has created a ballet in classical form about the life of Nelson Mandela in his ballet "Madiba". Brown female dancers are making waves in the dance world and young black girls are taking over the studio because their role models and platforms like Brown Girls Do Ballet, Inc.
Q) What's it been like to hold the crown of Miss Black USA? How do you respond to people who think beauty pageants are regressive for women?
A) It's been exciting to hold the title as Miss Black USA, especially hailing from New Jersey. New Jersey has never won the title until now so I'm proud to put my state on the map. Yes it's exciting for the prize package, crown and sash, but I am really interested in the scholarship for graduate school and being a bigger voice to my community through the arts, working with my queens who were contestants, and my platforms of The Heart Truth Campaign and the International Multiple Myeloma Foundation bringing awareness to the cancer. Pageantry is all about uplifting women because it displays their intelligence, community activism, and healthy lifestyle. Pageantry creates bonds and connections. The beauty that we see from "beauty pageants" is the elegance, grace, and poise that (in my opinion) we don't see enough of. For women of color, we are seeing more #blackgirlmagic among our actresses playing exceptional roles but there are still stigmas of black women and sexist issues with women overall that need to be broken. We are literally putting women on a platform and showcases how strong, beautiful, and amazing women are. Plus pageantry has scholarship money so who wouldn't want to invest? =)
Q) Black beauty, while everywhere, has historically not been properly celebrated in mainstream media. We're finally at a point where we're really seeing black women shine. #BlackGirlMagic is all around us. How do you think being Miss Black USA uplifts black beauty?
A) When I competed for the winning title, I was surrounded and reminded of how beautiful black women are. That's another reason I decided to join the pageant to be around like-minded black women and create new friends outside of where I work. To this day I keep in touch with North Carolina, Tennessee, Utah, Delaware, Maryland and others. The more #blackgirlmagic is normalized in mainstream media, the more people of color can progress because this will no longer become a factor that they can't achieve anything they wish. The more we won't be seen as video vixens but scientists, ballerinas, athletes, technicians, electricians, astronauts and beyond. Black beauty, intelligence, and regality have always been there, but its time to know it's ours and to claim and celebrate that through organizations like Miss Black USA. This is why we are looking for women to participate in the pageant to uphold the legacy that women are stunning in all aspects of life.
Q) We love the idea of women feeling comfortable in their skin (and hair, and everything else). What led to your decision to forego a weave in the Miss Black USA pageant? Has it been a journey to get there, or have you always proudly embraced black hair that is free from extensions, wigs and straightening chemicals?
A) I want to be clear that I am not anti-weave or anti-extensions. I was wearing faux goddess locs (which is a form of extensions) and love and appreciate how far blacks have contributed to black beauty and black styles. I wanted to have a style that was natural looking, yet still a protective style during pageant week so that I didn't have to worry about the hair. I also make sure that I don't want to validate another culture's hair for saying that it's easier to manage than natural hair because my 4c hair is the hair I was born with and love showing that off. It's no longer the 1950's where in certain professions we need wigs or weaves to get looked at as normal. I want to show that natural hair and styles are stunning because I'm thinking about what that little girl in the audience is thinking about. If we continue to show us weaving weaves as a form of status or validation of money, or only one type of curly hair texture, then what type of influence may that bring about? Yes, I have won a weave before and crochet braids but I prefer kinky or curly hair. Throughout my life, I got a chance to rock so many styles including short and relaxed, to Havana twists with color. For me, my hair is art and I love showcasing how diverse black hair really is.
Q) We like to tell our readers to be unapologetically bold. That means women should feel empowered owning and celebrating their sexuality...unapologetically. What motto would you share with girls and women who are looking to break the mold?
A) My quote is "nevertheless, she persisted" because to me that says a lot about not being afraid to go for something. Continue to challenge the social norms to have new norms out there. I also think about our ancestors and the legacy we hold to break out and do things that inspire and make us feel good. I don't want society or media to tell my story or journey, but for me to know that I tried and persisted to achieve the things I want.
Click here to read more about Miss Daphne Lee!
Stay in the loop, bb
Our top stories delivered to your inbox weekly