Culture
10 sex positive books by women to add to your holiday wish list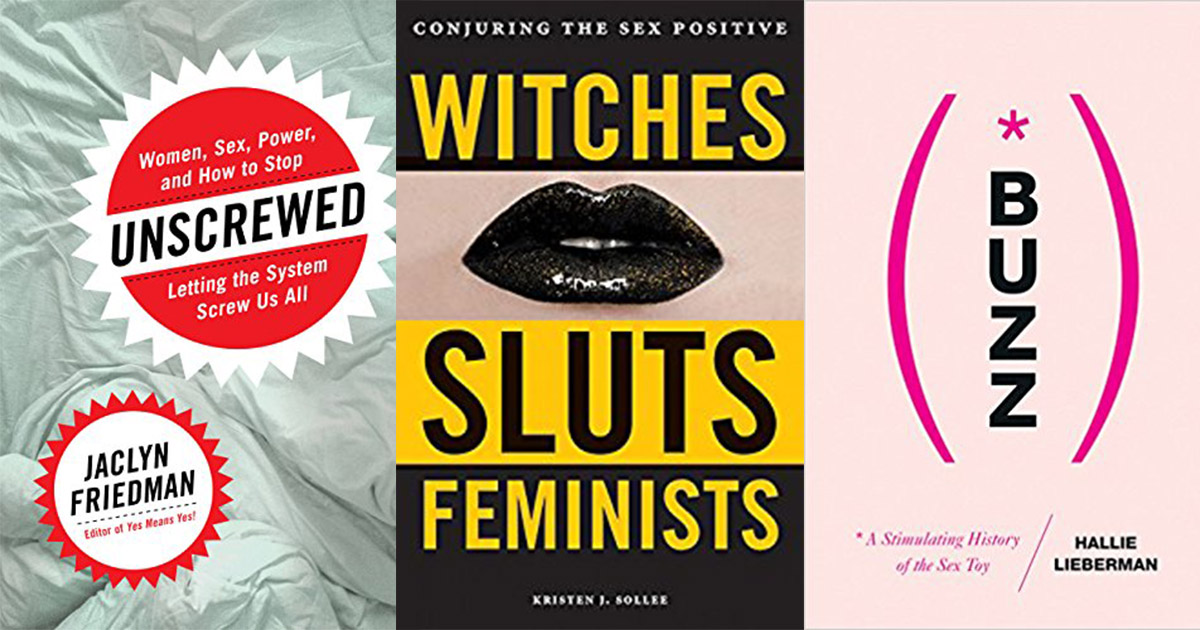 Want to escape social media and cozy up with a good book? From witches, to celebrities, to vibrators, we have been blessed with a bounty of sex positive reads from some of our favorite female authors this year. Whether you're a poetry lover, obsessed with history, or just looking for some good fiction to get lost in, we've got you covered with our top picks. Happy reading bbs!
1. Witches, Sluts, Feminists: Conjuring the Sex Positive by
Kristen J. Sollee
In her debut compendium, Kristen J. Sollee explores the demonization of women's sexuality and power through a combination of history, pop culture analyses, and interviews with activists, artists, scholars, and witchcraft practitioners. Sollee addresses contemporary conversations about reproductive justice, sexual pleasure, queerness, pornography, sex work, and how women can fight misogyny by celebrating and embracing the legacy of the witch.
2. All the Lives I Want: Essays About My Best Friends Who Happen to Be Famous Strangers by
Alana Massey
Alana Massey mixes memoir and pop culture criticism in her debut essay collection examining the ways we see ourselves in our heroes. Through the lives of female celebrities such as Britney Spears, Sylvia Plath, and Lil' Kim, Massey explores sex work, mental illness, and how we remember famous women.
3. Her Body and Other Parties: Stories by Carmen
Maria Machado
Carmen Maria Machado's debut story collection defies categorization, borrowing from science fiction, queer theory and horror to create her own fantastical narratives that explore both the pleasure and terror of living in a female body. At times both strange and sexy, Machado's spellbinding stories offer an original take on the realities of women's lives.
4. Buzz: The Stimulating History of the Sex Toy by
Hallie Lieberman
Sex toy scholar Hallie Lieberman dives into the unexpected and fascinating history of sex toys, from ancient phalluses to your 21st century faves. Focusing on the evolution of sex toys through the lens of cultural perceptions of sex, Lieberman introduces readers to the creators and innovators whose work revolutionized feminist and queer communities.
5. The Nowhere Girls by
Amy Reed
An addictive YA novel about teen girls fighting rape culture? Sign us up! Amy Reed's diverse trio of misfits come together to avenge the rape of a fellow classmate and hold abusers in their high school accountable, sparking a change in their community's discussions about sex, consent, and pleasure.
6. The Mother of All Questions by
Rebecca Solnit
In her follow up to Men Explain Things to Me, Rebecca Solnit continues to explore the many ways in which gendered power dynamics silence and endanger women. The essays in this collection touch on everything from Lolita, to rape jokes, to Elliot Rodger, as well as offering hope for a feminist future.
7. Unscrewed: Women, Sex, Power, and How to Stop Letting the System Screw Us All by
Jaclyn Friedman
Following her previous works about affirmative consent and sexual desire (Yes Means Yes and What You Really, Really Want), sex educator Jaclyn Friedman tackles how sexual power in America really works. Exploring how media, religion, politics, and education affect our sexual politics, Unscrewed guides readers in recognizing and combating "fauxpowerment" in order to create real change.
8. There Are More Beautiful Things Than Beyoncé by
Morgan Parker
Morgan Parker's poetry collection explores how contemporary black womanhood relates to vulnerability, desire, and pain. From Michelle Obama to, of course, Beyoncé, Parker's political and pop culture references capture the complexities of femininity and race in America.
9. Too Fat, Too Slutty, Too Loud: The Rise and Reign of the Unruly Woman by
Anne Helen Petersen
Anne Helen Peterson's thoughtful and fun essay collection offers a compelling look at how female celebrities push boundaries and defy stereotypes about what it means to be a woman. Petersen explores why we idolize and criticize provocative pop culture personalities such as Kim Kardashian, Lena Dunham, and Nicki Minaj.
From the popular sex education comic Oh Joy Sex Toy comes an equally delightful and enlightening coloring book full of NSFW illustrations. Coloring is a great self care activity, and with a wide variety of sexy humans to appreciate, Erika Moen and Matthew Nolan put the "adult" in adult coloring books.
Image source: Tony Futura
Stay in the loop, bb
Our top stories delivered to your inbox weekly