Culture
6 reasons why Ruth Bader Ginsburg is a real-life queen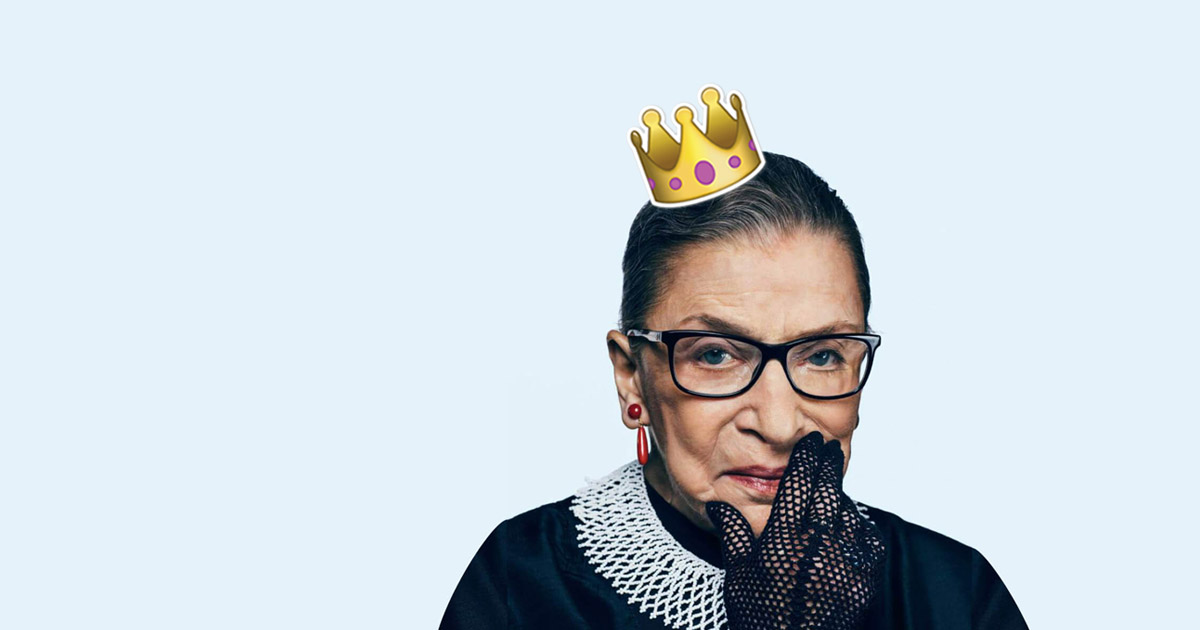 With a bunch of clowns (and by clowns I mean misogynists, racists, and bigots) running the executive branch, it can start to feel like the U.S. government is beyond repair. Then, you remember Ruth Bader Ginsburg, the Supreme Court justice who restores our hope in the world. As long as little girls are dressing up as her and reading books about her, the country just might have a future. Since today is her 85th birthday, let's take a break from the soap opera of American politics to reminisce on some of her best moments.
1. She was making her mark on the Supreme Court before she was even on it
Before she even became a Supreme Court Justice, RBG authored a brief for Reed v. Reed (1971). This was the first case to overturn a law that discriminated against women using the Equal Protection Clause of the Fourteenth Amendment, which says states can't deny people "the equal protection of the laws."
2. She's responsible for some of the court's biggest women's rights rulings
In United States v. Virginia (1996), Ginsburg wrote the majority opinion declaring it unconstitutional for a public college, Virginia Military Institute, to only admit men. "Neither the goal of producing citizen soldiers nor VMI's implementing methodology is inherently unsuitable to women," she wrote.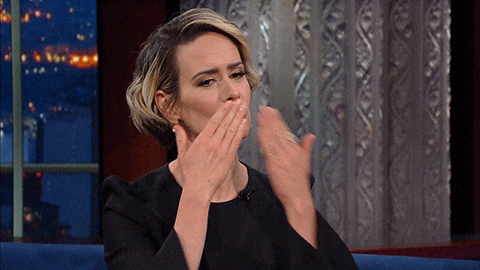 Two decades later, in Whole Woman's Health v. Hellerstedt (2016), she was one of the five justices to strike down Texas's restrictive Omnibus Abortion Bill, writing, "It is beyond rational belief that H.B. 2 could genuinely protect the health of women, and certain that the law would simply make it more difficult for them to obtain abortions."
3. Her dissents are fire
In Ledbetter v. Goodyear Tire & Rubber Co. (2007), Ginsburg wrote the dissent to a ruling that workers couldn't sue employers over pay discrimination after 180 days, reading it from her bench. "In our view, the court does not comprehend, or is indifferent to, the insidious way in which women can be victims of pay discrimination." Though this ruling held for two years, it was reversed in in 2009 by the Lilly Ledbetter Fair Pay Act.
In Fisher v. Univ. of Texas at Austin (2013), another impassioned dissent of hers argued in favor of affirmative action: "I have several times explained why government actors, including state universities, need not be blind to the lingering effects of "an overtly discriminatory past," the legacy of "centuries of law-sanctioned inequality."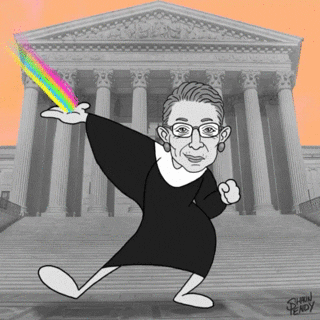 4. She's given solid relationship advice
RBG isn't just good at her job; she also had a successful marriage with her late husband Martin D. Ginsburg. "In every good marriage, it helps sometimes to be a little deaf," she said during a 2017 speech at Stanford. "I have followed that advice assiduously, and not only at home through 56 years of a marital partnership nonpareil. I have employed it as well in every workplace, including the Supreme Court. When a thoughtless or unkind word is spoken, best tune out. Reacting in anger or annoyance will not advance one's ability to persuade."
5. She taught us what true equality would look like
Forget trying to make the Supreme Court 50/50. As RBG pointed out, since men have filled it for so long, it's only fair for it to be all women at some point. "People ask me sometimes, 'When do you think it will be enough? When will there be enough women on the court?'" she said on PBS Newshour. "And my answer is when there are nine."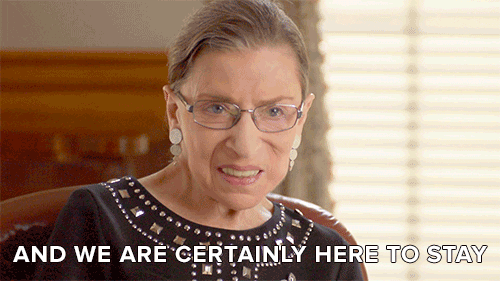 This philosophy can apply to so many other things, like the fact that we won't have reached gender equality in the bedroom until women are getting oral sex without any expectation to reciprocate.
6. She's inspiring the next generation
After eight-year-old Michele dressed up as her for her school's "superhero day," RBG herself sent her a letter with some advice we could all stand to hear: "Reading is the key that opens doors to many good things in life. Reading shaped my dreams, and more reading helped me make my dreams come true."
Stay in the loop, bb
Our top stories delivered to your inbox weekly