Culture
6 sex-positive books every woman should read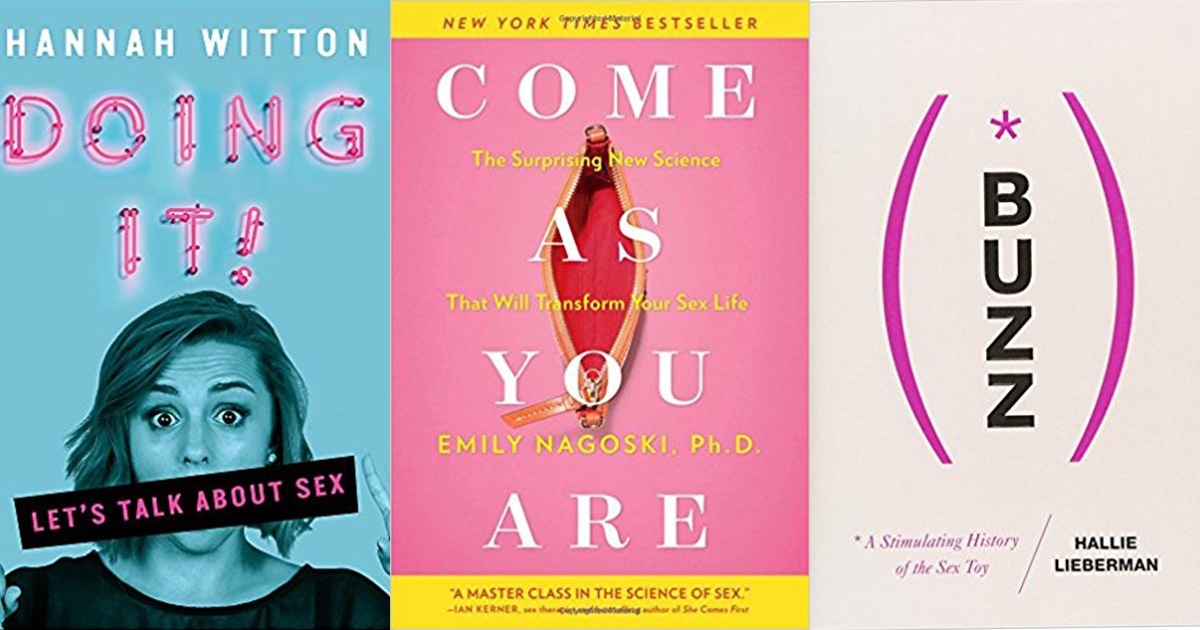 Whether you're a seasoned pro, or you've just made your foray into the wet and wonderful sex-positive movement (welcome, by the way), you can never know too much about the nuanced world of sex. Attitudes towards sex, gender, pleasure and reproductive health are constantly evolving, and with it so does our knowledge.
In a perfect world, sex positivity would be taught in schools, and science-based sex ed programs would not only be mandatory, but would also cover topics like gender identity, consent, and sexual pleasure. We might be getting there - albeit at a glacial pace - but in the meantime, it's up to us as individuals to educate ourselves.
Admittedly, it can be daunting to keep up with all the terminology and discourse surrounding sex, but luckily there's plenty of resources out there that can allow you to do that (despite society's puritanical killjoy attempts to keep sex a taboo). Here we've compiled essential reading for any woman who considers herself sex-positive.
1. 'Doing It: Let's Talk About Sex' by Hannah Witton
This is the book I wish I read when I was a teenager. Covering everything from sexting to virginity, to the importance of LGBTQ+ pronouns and gender identity, 'Doing It' is basically the sex positivity bible. Aside from sharing #facts and hilarious/awkward/relatable personal anecdotes, Hannah Witton enlists the help of fellow YouTubers and experts - because none of us have all the answers, as she puts it.
2. 'Come as You Are: The Surprising New Science That Will Transform Your Sex Life' by Emily Nagoski
This is the type of book that will leave you a clusterf*ck of revelation, frustration and hope. You'll want to shout every passage from every rooftop, and you'll find yourself recommending this read to everyone, even strangers on the subway. In 'Come as You Are' Dr Nagoski, a researcher and sex educator, will teach you that you've been lied to your whole life about how female sexuality works. She debunks the most common myths that make women (and often some men) feel inadequate between the sheets, and uncovers the science behind what - and most importantly how and why - makes women tick.
3. 'Queer Sex: A Trans and Non-Binary Guide To Intimacy, Pleasure and Relationships' by Juno Roche
Sex positivity should always be an inclusive, safe space free of judgment or stigma regardless of your gender identity, because navigating love and sex can tricky for everyone, especially marginalized people. In her utterly relatable book, transgender activist Juno Roche explores intimacy, desire and dating with leading figures of the trans and non-binary community, calling out prejudices and pushing the boundaries of how society views gender, sexuality and relationships. Filled with first-hand accounts, 'Queer Sex' is a beautiful and empowering celebration of trans bodies, and one everyone (not just trans folks) will benefit from.
4. 'Buzz: the Stimulating History of The Sex Toy' by Hallie Lieberman
If sex positivity were to have a mascot, it would most likely be a vibrator. Sex toys have an amazing, long-as-hell history and you can read about in this book. Lieberman, a sex historian who has the world's first Ph.D. on the history of sex toys, traces the journey of sex toys all the way from Ancient Greece to today. The book also explores America's changing attitudes towards sex, feminism, LGBTQ issues and more all via the evolution of sex toys. It'll make you think differently about (and appreciate) your trusty vibrator, that's for sure.
5. 'Animal: The Autobiography of a Female Body' by Sara Pascoe
Comedian Sara Pascoe takes everything that women deal with - from pubes and menstruation to infidelity and abortion - and tackles it in this hilarious mix of feminism, biology and comedy. 'Animal' is a combination of personal and evolutionary history that investigates how the modern woman has come to be, exploring all the forces that molded our understanding of love, sex and the female body. Aside from being insightful as hell, the best thing about this book is that Pascoe manages to tackle even the most sensitive subjects with a laugh-out-loud funny approach. It's essentially stand up comedy that you can read, and it will make you laugh and think at the same time.
6. 'The Big O' by Oloni
Award-winning blogger Dami Olonisakin - aka Oloni - is taking all her sage, hoe-tastic advice and putting it in a book. As the brains and beauty behind viral twitter threads and challenges, Oloni has made a name for herself as everyone's favourite sex-positive and opinionated agony aunt. Covering everything from sugar daddies, fake orgasms, contraception and pornography, The Big O will be an unconventional guide to hook-up culture and millennial relationships. The only downside? It's not out yet!
Stay in the loop, bb
Our top stories delivered to your inbox weekly