Culture
7 LGBTQ+ body positive activists you need to follow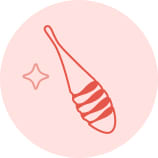 Laura Du Vé
Laura Du Vé is a queer photographer and plus size model promoting body positivity from both sides of the camera. Du Vé's photos capture a unique vision of queer femme sensuality, while her own selfies show off her amazing style, curves, and tats.
Ericka Hart
Ericka Hart is a queer sex educator, activist, and cancer survivor. After undergoing a double mastectomy, Hart made headlines attending Afropunk 2016 topless. Hart's topless photo shoots and public appearances are intended to bring more visibility to breast cancer, especially for queer and trans people of color. Follow her for inspiring travels in sex ed and gorgeous nudes.
Aaron Philip
Aaron Philip is a disabled, gender-nonconforming, femme model and advocate for LGBTQ+ and disability rights. At 17, she is already taking the fashion industry by storm with her signature blonde curls and wheelchair.
Alok
Alok is a gender-nonconforming performance artist, writer, and educator. They bring to light the struggles of trans and gender-nonconforming people of color not only through their work, but also through their fashionable Insta, where they mix heels and chest hair unabashedly. You've never seen better inspo for a bold lip.
Roscoe Ramone
Roscoe Ramone is a queer body positive activist. She pairs her stylish pics with honest and thoughtful captions about queerness, body positivity, and mental health. Come for the obsession-worthy blueberry hair, stay for the pep talk realness.
Jessamyn Stanley
Jessamyn Stanley is a yogi and self-described fat queer femme. She wrote the book Every Body Yoga and hosts the advice podcast Jessamyn Explains It All. She teaches yoga alongside messages of body positivity, self-care, and self-love. Check out her feed for some yoga inspo and incredible photo shoots.
Ruby Allegra
Ruby Allegra is a queer, genderfluid, disabled makeup artist and activist. They explore body positivity, self-care, and gender identity through the lens of disability, all while posting fire makeup selfies.
Stay in the loop, bb
Our top stories delivered to your inbox weekly