Culture
Polly Rodriguez Talks Vibrators, SexTech & Kicking Rectal Cancer's Ass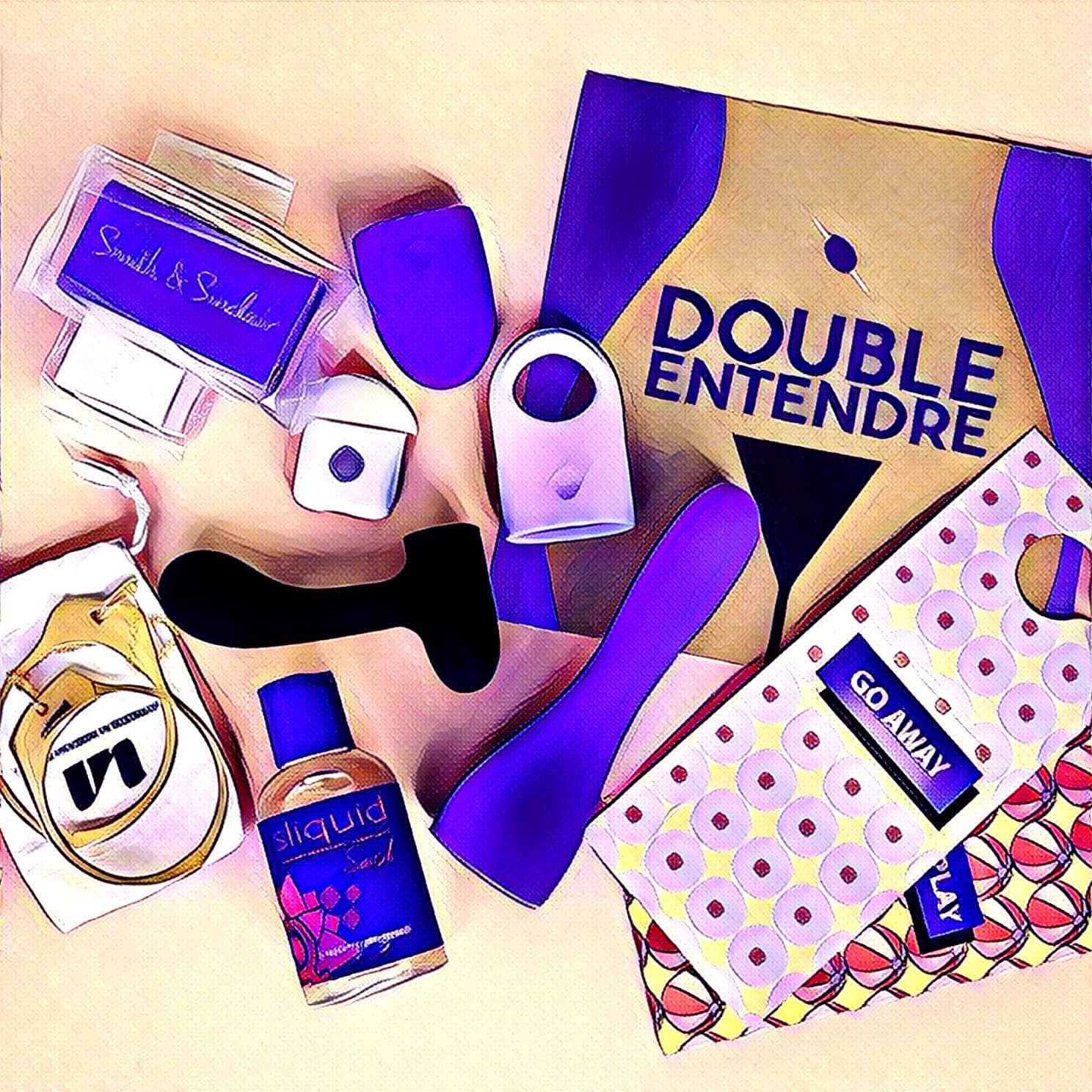 Unbound is a quarterly subscription box filled with all kinds of fun goodies dedicated to making sex more enjoyable for women.
Polly Rodriguez (CEO/Co-Founder/all-around dope chick) talks SexTech, vibrators and going through menopause at age 21 after kicking rectal cancer's...ass.
1. How did Unbound start? Talk to us about the mission!
For me, it was going through menopause at age 21 and shopping for a vibrator for the first time that made me realize how underserved female sexuality is in today's marketplace. I was going through radiation treatment for a colorectal cancer diagnosis and it left me infertile, menopausal, and at a Hustler Hollywood in St. Louis. The shopping experience was horrendous and it always blew my mind that there wasn't a better alternative. So, we started Unbound with the mission that women should have an online destination for reading about and enjoying products that liberate them in their sexuality.
I wanted Unbound, as a brand, to embrace that, because it's liberating and refreshing for a company to come out of the gate and say "ya, sexuality is weird and amazing and funny and we are, too."
2. Did you experience any pushback from friends/family when you got started in the SexTech space?

Ohhhhh, yes; did I ever. My parents were completely shocked. My career went from working on Capitol Hill for Senator McCaskill to strategy consulting on Wall St. to… selling vibrators. Initially, they were confused as to why I would want to take on such a taboo industry. I remember my mom saying, "You won't be able to get a job if Unbound fails. Your reputation will be ruined." And there certainly are times when it's not easy to talk about what I do (ahem, family weddings), but, human sexuality is a thread woven throughout all of humanity, and I refuse to believe that it's dirty or wrong to explore it.
And for the record, both of my parents are totally onboard with Unbound now. They are two of the most wonderfully supportive humans to ever grace this rock we call Earth.
3. I just listened to the "Shameless Pleasure" episode on the Future of Sex podcast. You were fantastic. Tell us more about the realization you had looking back at how your doctor addressed (or rather, failed to address) your post-cancer sexuality at the time.

Going through cancer is living in a constant state of triage. I was given a 30% chance of survival and an 80% probability that the cancer would come back. So, it's easy to look back now and say, "ERMAHGAWD, how did they not even like tell me I was gonna go through menopause?"
Well, because they were focusing on getting me through surgery without having to live with a poop bag the rest of my life. Where I think treatment fell short was in addressing the long term effects of radiation, surgery, and chemotherapy on my body and my quality of life. After you make it to the 3, 4, 5 year marker there should be a social worker who sits you down and talks to you about what it means to be a 22-year-old who has gone through menopause -- both mentally and physically. That still doesn't exist in the world, at least, not that I know of.
4. Why do you think there's still such a stigma surrounding female sexuality? How do we shatter that shit?

I don't think it's just female sexuality, we are terrified to acknowledge sex culturally because it makes us all feel vulnerable as humans. It boils us down to our primal nature and that's a scary notion for a sophisticated, evolved society... but I think sexuality is beautiful. None of us would be here without it. I think it takes leaders (in SexTech specifically) pushing that ball down the field, having those conversations, and championing the elegance of human sexuality, because it really is all kinds of wonderful.
5. Talk to us about your branding! We're obsessed. You make sexuality feel so…relatable? Fun? Clean? …NORMAL?!
LAWL. It's usually just me at a computer late at night trying to be as honest and real as possible. Cancer taught me how to embrace vulnerability and find the humor in life's toughest moments. I mean, when you have to strip naked every day for an old man to literally stick his finger in your butt (I had rectal cancer), you learn how to just be human in your most raw, exposed form. I wanted Unbound, as a brand, to embrace that, because it's liberating and refreshing for a company to come out of the gate and say "ya, sexuality is weird and amazing and funny and we are, too."
6. Real talk: what's a good starter sex toy for someone who's interested in dabbling, but hasn't yet? What is the gateway toy?
My all time go-to is still the Minna Limon after years of testing every vibe out there. Its rumbly and the harder you squeeze it the harder it vibrates. I find that immediate adaptation component absolutely fantastic.
Gonna get a little personal and maybe a little weird here.
7. What kind of stuff would I find if I snooped through your nightstand right now?
Ha! Happy to share my nightstand setup with you. SO many books. Right now I'm reading The Woman Warrior by Maxine Hong Kingston, A Room of One's Own by Virginia Woolf, and my go-to which is a collection of Walt Whitman's poetry. You'll also find my journal -- I write at least 2-3 times a week. My minna limon, uberlube, sir richards condoms, my retainer (UH YA), bobby pins, and an old Russian antique alarm clock.
8. Bad news bb- you're stuck on an island. Y'all can bring 3 things. What're we packing?
Functional answer: wifi hotspot, cell phone, water.
Fun answer: Nina Simone's greatest hits, a pony, and a vat of bourbon.
***
Unbound is featured on Cosmopolitan, Mashable, The Huffington Post, Glamour, Vice and soo00o00oO much more.
Also- their social media game is top. Srsly. Follow Unbound on Instagram and Twitter and Facebook for all the things.
Stay in the loop, bb
Our top stories delivered to your inbox weekly