Guides
8 Kinky V-Day ideas for couples of all stripes
As days of the year go, V-Day has the undeniable mainstream monopoly on romance. But if you'd like to celebrate your coupledom with something a tad edgier and more original than flowers and chocolate Hallmark style, there is no shortage of kinky (yet still totally romantic) avenues to Valentine's Day bliss. After all, it's all about sharing the love—in whatever way speaks truth to your unique bond. Let us appreciate Valentine's Day for what it is (or what is should be): an opportunity to bring your relationship to a whole new level.
Ready to get kinky this V-Day? Consider the following 8 delicious alternatives to chocolate hearts:
1. Be restrained
Or, y'know, do the restraining. Whatever floats your boat. Either way, bondage can add up to a whole lotta fun if you're safe and consensual about it. Imagine surrendering to your partner, and trusting them to take full control. Or vice versa. You might start light, with some furry handcuffs, and eventually graduate to some full on Shibari action, AKA Japanese rope bondage. Or maybe some mattress restraints are more your jam. Or—yum—a spreader bar! No matter what you choose, be sure to discuss it thoroughly beforehand. And come up with a safe word. Only proceed if you're both comfortable and enthusiastic about trying it!

2. Heat things up
Pick up some Make Me Melt Drip Candles. Their melt temperature is lower than your typical candle, so you can kinkily pour hot wax on your lover's body more safely. Stimulation through hot or cold sensations is known as temperature play, and, when done right, gives the body a rush of arousal. Temperature play is especially fun when hot and cold are combined together in unpredictable patterns (consider ice cubes, baby). Either way, candles are a Valentine's must—hell they're an everyday must in my book: they keep a strong glow going in even the darkest of bedrooms (and the darkest of times).
3. Get a new toy
While new toys are super welcome any (and every) day of the year, they tend to be extra special on Valentine's Day. Really, what spicier gift can you give? When it comes to couples' toys nowadays, the sky really is the limit. Wearable couples toys like the Luvli Ditto: and the Luvli Ditto 2 are all the rage with good reason Or, if you can't be together in person this year, consider the revolutionary Kiiroo Interactive Long-Distance Couples Set. It's got a g-spot vibe and a male masturbator, both with touch sensitive technology. For the devices to communicate with one another, just pair them via bluetooth to a mobile device with the Kiiroo app and let the fun begin. Couples without cocks can get 2 vibes instead of the vibe-sleeve combo.
4. Watch yourselves
If making a sex tape ain't your thing, I say go with mirrors! If you've ever caught a glimpse of yourselves in the mirror in the throes of a great lay, you know how incredibly exciting it can be. Now consider installing a mirror explicitly (ahem) for play. If you want to get schmancy, you might get yourself a giant ceiling mirror (secure it properly!). The erotic visual experience will undoubtedly intensify your pleasure—and give you a whole new perspective.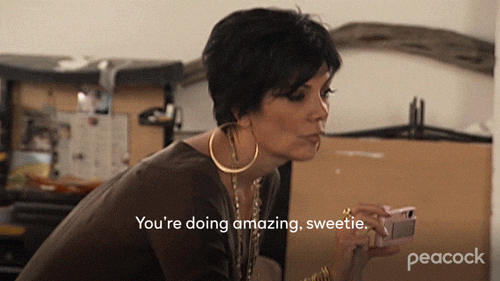 5. Use the backdoor
Ass play is the shit (sorry, couldn't help myself). Seriously, though, no matter your gender, exploring anal arousal with a finger, tongue, or toy is a great way to ramp up the pleasure with your partner. If one or both of you have been wanting to give it a go, start slow, and consider—you guessed it—getting some fun toys to help you, um, ease in. Anal training kits are perfect for first-timers, and once you get more comfortable, you might graduate to butt plugs or anal vibrators. Happy V-Day indeed.
6. Truth or dare
Many of us recall the rush of nervousness and excitement associated with games of truth or dare as kids. Well, playing it as an adult as part of a kinky V-Day celebration can lend that quaint old game some filthy new meaning. You can either buy a game or come up with prompts yourself (like you might've done as a kid—but different). The point is to get you talking, laughing, oversharing, and learning tantalizingly naughty things about one another.
7. Skip the dishes
Consider eating food off each other's bodies, AKA food play. If you go this route you'll want to opt for bite-sized non-messy food like grapes or cherries, or make it extra sweet with whipped cream or chocolate syrup. Just be sure to keep food away from your genitals! The last thing you want is a V-Day infection. If you wanna get extra kinky, you might go for sushi, inspired by the controversial Japanese custom of nyotaimori (eating sushi off a naked woman's body). What better way to serve up V-Day dinner, I ask? Chances are you'll end up making out and laughing in the shower.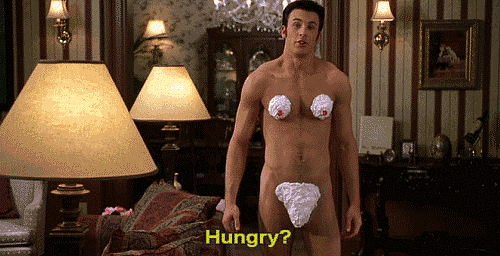 8. Play with power
Dominant/submissive relationships take many different forms. The stereotypical image of a submissive woman chained to the wall while her leather-clad Dominant waves a whip around is just one aspect of domination and submission. Whether you fancy yourself more of a dom or a sub, and whether you'd like keep your power play in the bedroom or extend it to other aspects of your relationship, there are a ton of great books out there. If this idea tickles your deep erotic sense (and your partner's too), why not do some reading together? What better foreplay is there on Valentine's Day anyway?
Wishing y'all as kinky a Valentine's Day as your heart desires!
<3
Stay in the loop, bb
Our top stories delivered to your inbox weekly